Mantis & Bee, Mira Calix Live at Kings Place
On the 6th of March 2020 Mira Calix performed what turned out to be her last concert before the world shut down, at Kings Place, London as part of a season called Nature Unwrapped. She presented an evening of her music composed and re-arranged for string quartet, voice, piano, and field recordings. Drawing on her seminal 2003 work nunu, originally composed for the London Sinfonietta and a gathering of live insects, the programme places this work in the context of her wider interdisciplinary practice, which incorporates sonic organic materials with classical instrumentation, dance, and visual elements.
This digital album is now available exclusively from October House Records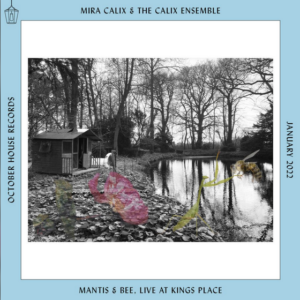 a sonic portrait of Calix, alongside composersBishi Bhattacharya and Love Ssega have been created for a new EP, title Frgaments, also released on October House Records. Using audio diaries and other soundbites from the artists' daily lives. Phaedra Ensemble have interpreted and instrumentalised these recordings in their own idiosyncratic ways before blending and fusing the resulting recordings with the original soundbites to produce an inimitable collage reflecting the personalities of each artist.