Momentum – with United Visual Artists
commissioned by: Barbican Centre

installation: The Curve – Barbican Centre, U.K.13 February 2014 – 1 June 2014

collaborators: concept and design – United Visual Artists

musical direction:  Mira Calix/ UVA

sound designer: Dan Stowell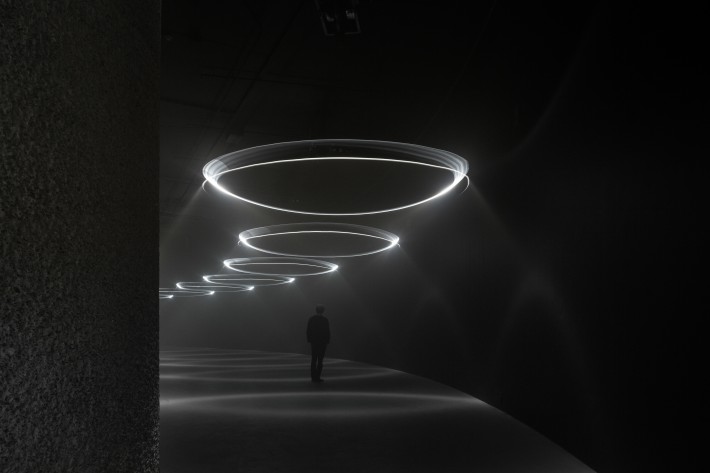 United Visual Artists 's Momentum is a carefully choreographed sequence of light, sound and movement, which responds to the unique space of the Curve.
Momentum consists of twelve pendulums that activate light and sound as they swing, drawing attention to the Curve's vast arc, inviting you to journey through the space guided by your heightened senses. Each pendulum has been meticulously designed and built using steel, aluminium, and custom electronics. The sound is individual to each pendulum, prepared and tuned to seamlessly resonate as they move within the Curve.
Momentum creates an environment that has its foundations in detailed research, sophisticated computer technology and mechanical expertise. Yet, the effect is to create a space that feels wondrously transformed, one which you are invited to experience and explore.
Momentum Making Of from United Visual Artists on Vimeo.
Video: The Financial Times on Momentum
Video: Distorting Space and Time – The Creators Project on Momentum
http://www.barbican.org.uk/artgallery/event-detail.asp?ID=15620