Planets 2018 – a response to Holst's influential work
Planets 2018
Mira Calix – Mercury – keeper of borders
composition performed by the Ligeti Quartet< Written out of a fascination with astrology, Holst's The Planets was first performed 100 years ago. But what would it sound like if created today? Inspired by modern astronomy and music, the adventurous Ligeti Quartet perform 8 new planetary works, created especially for planetariums, by 8 composers spanning contemporary classical, electronica to jazz. Exploring the domes' unique design with live visuals, The Planets 2018 takes you on an astronomical journey into new music.
Mira was partnered with Professor of planetary geosciences David Rothery who advised and facilitated the work.
'my musical interpretation of the planet Mercury has been developed from sonified data gathered from my (simulated) flight path over the surface. This opportunity to pass over the craters of the planet, all named after artists, was kindly facilitated by David. I gave the material i collected musical parameters, including the 8 tone scale at the core of Holst's original score. These compositional choices were made with a more conceptual view to connect his, dare i say it, flight of fancy, around the planet and my more binary one. The two approaches work in juxtaposition with one another, eventually leading to a brief moment of musical symbiosis. Where as Mercury may have been, amongst other things  the keeper of boundaries in Greek mythology, my new score  is a journey that embraces freedom of movement, without borders.'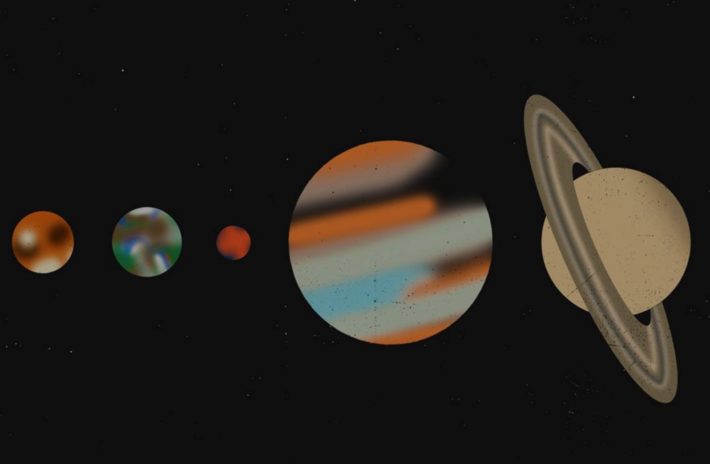 Music and science collide as composers Ayanna Witter-Johnson, Deborah Pritchard, Laurence Crane, Mira Calix, Richard Bullen, Shiva Feshareki, Samuel Bordoli and Yazz Ahmed connect with astronomers to explore the modern science of our solar system. Taking inspiration from the latest explorations of Mars, Earth, Mercury, Saturn, Venus, Uranus, Jupiter and Neptune, sit back, look up and discover The Planets 2018.
Each new piece of music will be introduced by the recorded voice of comedian Jon Culshaw (Dead Ringers, Newzoids and Spitting Image), a lifelong astronomy enthusiast and part of The Sky at Night team.
A Live Music Sculpture event produced by Sound UK. Funded by Arts Council England National Lottery and RVW Trust.
At the forefront of contemporary music since their formation in 2010, the Ligeti Quartet have established a reputation as one of the UK's leading ensembles, breaking new ground through innovative programming and championing of today's most exciting composers and artists. They have commissioned many new works and have collaborated with artists such as Anna Meredith, Kerry Andrew and Shabaka Hutchings. They have played at landmark venues around the world and also regularly escape the stage to play museums, pubs, galleries, and on iceberg sculptures as part of a Greenpeace campaign. The Quartet are Ensemble in Residence at Sheffield and Cambridge Universities. ligetiquartet.com
for further information http://www.sounduk.net/events/planets-2018/
David Rothery http://www.open.ac.uk/people/dar4
29 September – Royal Observatory, Greenwich, London
https://www.rmg.co.uk/see-do/exhibitions-events/the-planets-2018
30 September – Winchester Science Centre
https://www.winchestersciencecentre.org/your-visit/whats-on/the-planets-2018/#.W4bI8H4nZN3
1st October We the Curious. Planetarium, Bristol
https://www.wethecurious.org/event/the-planets-2018
2nd October – Thinktank, Birmingham Science Museum, Birmingham
http://www.birminghammuseums.org.uk/thinktank/whats-on/planets-2018
Holst Crater on Mercury – The Holst crater is a peak-ring basin 170 km in diameter, approved 2012. All craters on #Mercury are named after artists, writers, composers
image courtesy of the Open University and David Rothery