Mira Calix opens Portal
Mira Calix opens Portal on Bleep

miracalixportal.bleepstores.com
'I consider sound a material to be sculpted or composed, both in time and place'
Mira Calix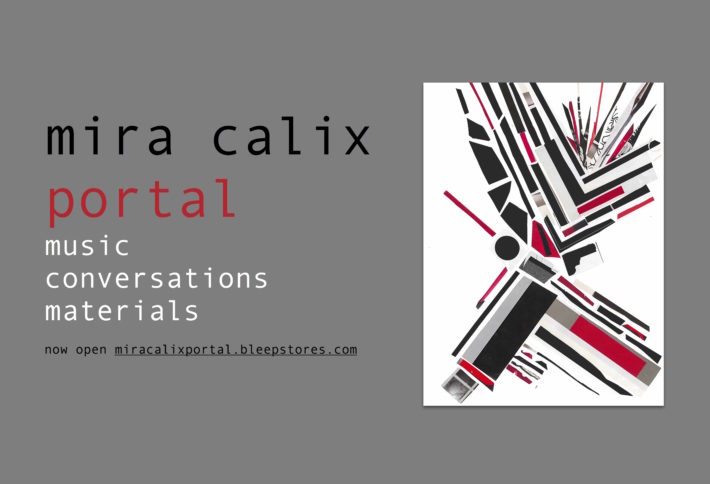 This December, award-winning artist, composer, and performer, Mira Calix, announces not only the release of brand new recordings, but also the launch of an interactive online portal. Distinct from the typical online shop, the portal will serve as a creative hub, a curated space, and a confluence of the various strands of Calix's artistic life.
Music and sound are central to Calix's practice; integrating sound, visual media and technological innovation, she creates multi-disciplinary installations and performance works. She was inspired to create the portal on realising its potential as a creative platform, a virtual gallery space divided into three sections: 'music', 'materials' (artworks), and 'conversation', a series of recorded discussions with friends, colleagues and collaborators.
Releases across all the three sections will happen regularly but not specifically. The conversations will be downloadable for a limited period, but remain archived and available to stream in perpetuity. Artworks or 'materials' will be produced in limited editions and music will be downloadable in a variety of formats including Mp3 and Flac. Calix's Warp existing back catalogue will also be available through the portal.
MUSIC
One of four tracks to be released on the portal is I Desire No Commendation, and is inspired by a painting of Catherine Parr, Henry VIII's final wife; Calix re-casts her not only as the one wife to outlive the monarch, but also as a radical proto-feminist. An example of the collaborative nature of Calix's work, the track features arresting vocals by British artist Sarah Lucas. The second, Just One More Thing, is performed by bassist Robert Black, founding member of New York ensemble Bang On a Can Allstars, while the third, Disambiguation, has a more electronic sound that harks back to Calix's early days on the Warp label, inspired by Polish composer Witold Lutoslawski. The fourth piece is the first movement from End Of Line, an ongoing collaboration with artist Goshka Macuga and choreographer Mbulelo Ndabeni in association with Ramebert Dance. End Of Line, a durational performance work involving two dancers and two of Macugas' 4.5-meter mechanical tables is presented weekly at The Lowry in SalforD until February 2017 as part of the 'Perpetual Movement' exhibition.
MATERIALS
In recent years Calix has produced and exhibited physical works that correspond to pieces of music. She often begins a composition with a drawing, assigning a shape and colour to the work before a sound. On completion, or just before, Calix listens to the work and creates a collage, an abstracted visual composition. These hand-made collages will be available along with other works as limited edition artworks, as well as providing virtual 'sleeve' art.
CONVERSATION
As a devoted podcast fan, Calix has created a space on the portal for discussion: a series of recorded 'conversations' with various friends and collaborators, published at irregular intervals, and available to download or stream for free.
'I collaborate with, and meet a lot of interesting people, so this is a one-on-one space for discourse' says Calix. 'They could be musicians and artists, or scientists, or writers. A lot of the installation and performative works result in large teams or collaborations, and creating these podcasts will allow me to share the bigger picture behind a project. So many people I meet in my work have so much to offer in terms of knowledge and interest. I see the portal as an opportunity to disseminate the subjects I find stimulating.'
Calix may not have released a full album since 2008's Elephant in the Room, but she has hardly been idle, creating multi-disciplinary installations and performance works for some of the world's most prominent cultural institutions, including the Royal Shakespeare Company, Aldeburgh Festival, Melbourne Recital Centre, Institute of Contemporary Art, National Portrait Gallery and Manchester International Festival. This new online portal will serve to communicate the temporal and performative nature of Calix's multidisciplinary practice, as well as its collaborative nature, inviting those with similar methods to contribute.