Good Grief, Charlie Brown – exhibition at Somerset House
Good Grief, Charlie Brown!
Embankment Galleries, Somerset House, London
25 October 2018 – 3 March 2019
For Good Grief, Charlie Brown! a group exhibition opening at Somerset House on 25 October 2018, Mira Calix, has created a captivating new processed-based performance work. Filmed at the Embankment Galleries at Somerset House in August 2018, it is  informed by the depiction of musical notation in Charles M. Schulz's hugely influential Peanuts comic strips. Calix presents this video artwork, which she has edited with a non-representational, abstracted narrative, and it's accompanying quadraphonic soundtrack as a sculptural entity. 
Schulz drew musical scores as an object that can be manipulated, a motif that profoundly influenced Calix's understanding of music and her path as an artist.  In her new audio-visual work titled, if or unless?,musicians and dancers perform her musical and choreographed score by moving through the space, interventions in the physical and sonic landscapes. Their actions have musical consequences. Calix says: "Schulz really portrayed music as an animated character throughout the Peanuts strips. It was the first time I had seen musical notation fly, bend, be embraced, wrestled with. He made me consider music as an object in time and space."
if or unless? was originally inspired by a cell, an image of Lucy being held, suspended in a chord. Calix wanted to take that image off the page and turn it into something we could hear and feel. As a child Calix identified most with character, Lucy, as she grew up and became an artist, she soon realised that it was Schroeder that she truly identified with. She saw him embodying the struggle of being an artist – always depicted with his instrument, only wanting to make art, and play music. The score is inspired, like Schroeder, by Beethoven, specifically his Piano Sonata no 4 (Grand Sonata).
The instrumentation of this new audio-visual work consists of 8 musicians, a pair of string quartets, situated some distance apart play out the narrative tensions between the characters, and the sculptural attributes of sound. Dressed in block colours, they equate to Lucy, Snoopy and Woodstock (Schroeder's distractions from his art). All but the cellos, who depict a rooted Schroeder, move on a free trajectory, pulling and pushing from this central force. The interplay between the musicians and dancers, whom Calix has dressed  to represent the score as an object, intervene in the musicians pathway: the work illustrates both the physicality of music and the relationships between characters in the strip. All the performers movements drive the work, their actions and positions within the gallery have musical consequences, representing the obsessive streak of the artist. The score itself takes both an graphic and instructional form.
Good Grief, Charlie Brown! explores the impact of comic strip on the contemporary cultural landscape, uncovering the social, political and philosophical complexities told through the four-panel comic strip that have spoken to scores of artists and designers in their own work.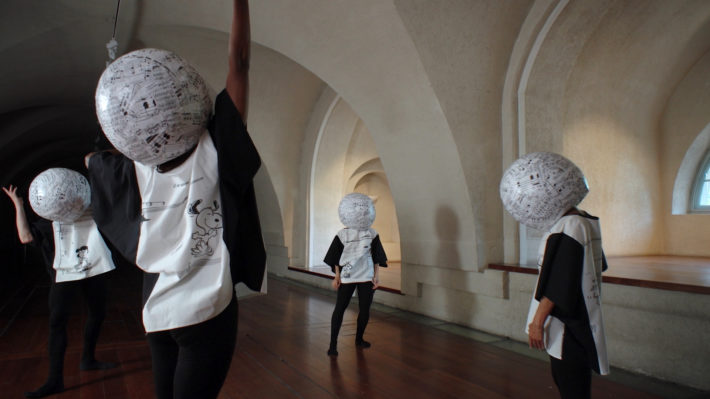 Alongside this examination of Schulz's life and work, the exhibition will feature a thrilling range of contemporary pieces, including new works, by artists and designers who have been inspired by Peanuts. Contributors will cross creative disciplines, including sculpture, music, film, design and fashion, and will feature artists including Andy Holden, David Musgrave, Fiona Banner, François Curlet, Ken Kagami, Lucas Price, Mark Drew,Mark Mulroney, Mel Brimfield, Mira Calix, Ryan Gander, KAWS and Steven Claydon.
Curator: Claire Catterall