Culture Declares a Climate Emergency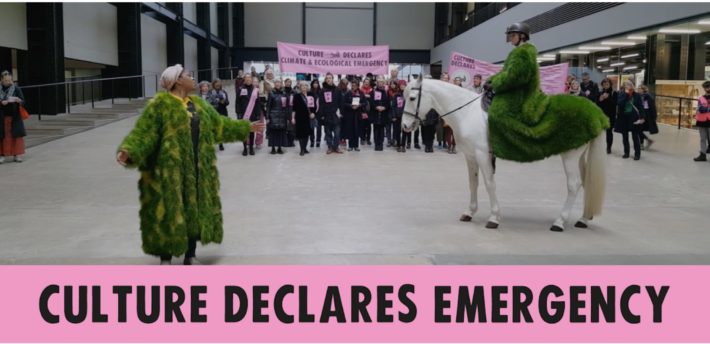 Culture Declares Emergency
Mira Calix creates new performative score for the launch of Culture Declares
The Museums Association (MA) has pledged its support to Culture Declares Emergency (CDE) as part of its commitment to the ethical and sustainable future of museums.
The CDE campaign launched on 3 April 2019 with more than 190 UK institutions and individuals from the arts and cultural sector joining together to declare a climate and ecological emergency.  A disruptive and creative procession stopped traffic across Waterloo Bridge to highlight the need for immediate action on climate change.
The launch also included a preview of Letters to the Earth, a series of written responses to the climate crisis that will be performed at arts venues across the UK on 12 April. The campaign comes at a significant time, as momentum builds for Extinction Rebellion – a grassroots rebellion intending to "shut down London" from 15 April until the UK government takes decisive action on climate change.
The first wave of declarers includes Somerset House, Battersea Arts Centre, Cardboard Citizens, HOME in Manchester, Lyric Hammersmith Theatre, London National Park City, Royal Court Theatre, Jerwood Arts, The Junction (Cambridge), Invisible Dust,  with more and more organisations and individuals expressing their intention to declare.
Sonum Vocis Magnum Parvo
This score comprises of both an amplified through composed piece of music and accompanying acoustic bells to be performed as a promenade. Shifting, phasing, moving like a sonic cloud. Bells are traditionally used to call communities together, to mark the passing of time, to raise the alarm, I wanted to use these modest handbells, intrinsically a small sound, but when multiplied, the gathering of a small sound makes a big sound. Compassionate, compelling – we will be heard! Sonum Vocis Magnum is a play on words the literal translation to Latin of Small Sound, Big Sound, but therein lies the voice – voices of the people, culture declares… Mira Calix
Sonum Vocis Magnum Parvo written and produced by Mira Calix and Ed Handley