#calixagainstcovid – limited edition masks and music
#calixagainstcovid  
Mira Calix has created a limited edition range of three colour toned collage masks to help raise funds and awareness of two healthcare charities; Doctors of The world, (UK) and Medact. These small charities were selected by the artist because of the vital aid and assistance they provide to migrants, refugees and the vulnerable.
Regulations on the use of face masks across the world vary, from obligatory to advisory, in both public and enclosed spaces. In U.K at present it is a matter of personal choice. As a precautionary measure, cloth masks are effective in stopping the spread of the virus and reduce the strain on surgical grade supplies which are prioritised for healthcare workers. Cloth masks not only have a utilitarian purpose but are an opportunity to communicate our desire and intention to be socially responsible in the face of the pandemic.
The #calixagainstcovid masks are produced in the U.K and are made of comfortable, washable, soft quilted cotton, They come in one of three of collage prints and retail at £19..99 with profits going to the above charities.

unity blue – crafted cut-ups of surgical masks, flags, banners and wallpapers museum green – featuring old masters and organic leafy abstracts
current monochrome – made with surgical gloves, newsprint and a sense of humour
In addition to your mask you will receive a new composition from Calix titled lazy river.
lazy river by Mira Calix was created as a download release to accompany her range of cloth face masks. The track itself is a hyper-collage made from hundreds of clips collated from Twitter as the pandemic took hold, all set to a pounding drum loop, chronicling the world-wide responses to Covid-19 through the lens of social media. This archive of affectual gleanings are then disjunctively interrupted with her own field recordings made on daily walks in the suddenly eerily quiet suburban town in which she is based.
The track seethes with a righteous anger and overtly political energy; the return to nature glimpsed in her recordings is secondary to the pandemonium of the world news cycle that enters the otherwise quiet, private and solitary domain of lock-down Britain.The dense collage starts with singing in Naples and ends with the whistles of Wuhan, via Brazil, Spain, New York, and Germany. Neighbourhoods commune across balconies, blasts of horns sound in support of key workers, pots and pans are thumped for the NHS, nurses plea for PPE, streets erupt in singing, the bells of Notre Dame ring out, doctors state facts and politicians bury them under a theatre of figures, ad-hoc protests spout 5G conspiracies, and the press comment upon comments in overlapping waves of contradiction and virtual noise. These sounds connect us with others through the digital space in a strange solidarity, but also exist in painful contrast to the personal, introverted experience of the unexpected solitude of the newly-reclusive life. The track explores these two separate but simultaneously lived realities; the body is in the localised physical space of hushed emptiness, yet at the same time the second body is simultaneously connected to a ever-changing and highly politicised stream; the world reacting in real time to an unforeseen transformation of the world as we knew it. The track could be understood as an extended advert for the rational of wearing a mask for the foreseeable future; as we gradually return to the outdoors to explore the world as we find it anew.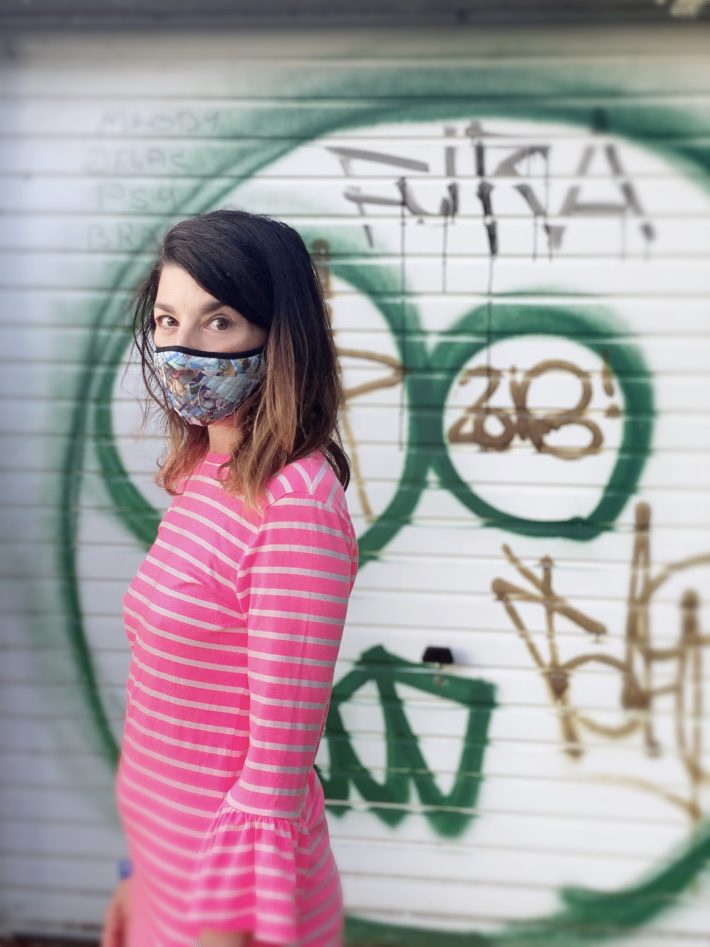 Masks should be routinely washed depending on the frequency of use. Individuals should be careful not to touch their eyes, nose, and mouth when removing their face covering and wash hands immediately after removing.
All profits are split between the following two charities:
Doctors Of the World @docw_uk
Doctors of the World is an independent humanitarian movement working at home and abroad to empower excluded people to access healthcare.Through 350 programmes in 80 countries run by more than 3,000 volunteers we provide medical care, strengthen health systems and address underlying barriers to healthcare.And we share skills and training locally so communities stay strong in the long term.We also strive to give a voice to the most marginalised, reporting on violence, injustice and unmet health needs wherever we find them.Our vision is a world without barriers to health, where healthcare is recognised as a fundamental right.
Medact @medact
Medact's mission is to support health professionals from all disciplines to work together towards a world in which everyone can truly achieve and exercise their human right to health.We do this through research and evidence-based campaigning for solutions to the social, political and economic conditions which damage health, deepen health inequalities and threaten peace and security