ADA Salon – limited edition vinyl release by The Vinyl Factory and London installation
ADA Project/Salon – limited edition vinyl release by The Vinyl Factory and London installation this autumn
10/10/14 – Vinyl release
11/10/14 – 31/10/14 – Installation 
Thursday – Sunday 11am – 5pm
The Vinyl Factory Space at Brewer Street Car Park (top floor), London W1F 0ST
Admission: Free
Mira Calix is set to release a new limited edition vinyl of  If  Then  While  For on the 10th of October. The ADA project is a collaboration with Conrad Shawcross. Mira's release is one of four limited edition laser etched 12" vinyl records released by The Vinyl Factory. Each record is accompanied by an artist print, hand signed and numbered by Conrad Shawcross. This new composition was recorded in London and Tasmania and features the voice of soprano Teresa Duddy.
On this collaborative project Calix mines the soul of the machine investigating Ada Lovelace's statement, "The Analytical Engine has no pretensions whatever to originate anything. It can do whatever we know how to order it to perform" and references Alan Turing's riposte, "Can a computer ever take us by surprise? Be kind, resourceful, beautiful, have initiative, make mistakes, fall in love, enjoy strawberries and cream, make someone fall in love with it."
http://www.thevinylfactory.com/
Mira Calix, alongside other composers Beatrice Dillon & Rupert Clervaux, Holly Herndon, Tamara Barnett-Herrin & Mylo, has worked in response to Conrad's sculpture. The ADA Salon is open to the public from the 11th of October until the 31st, at The Vinyl Factory Space at Brewer Street Car Park, London.
The exhibition coincides with Ada Lovelace Day, Tuesday 14 October 2014, celebrating Women in Science, Technology, Engineering and Maths.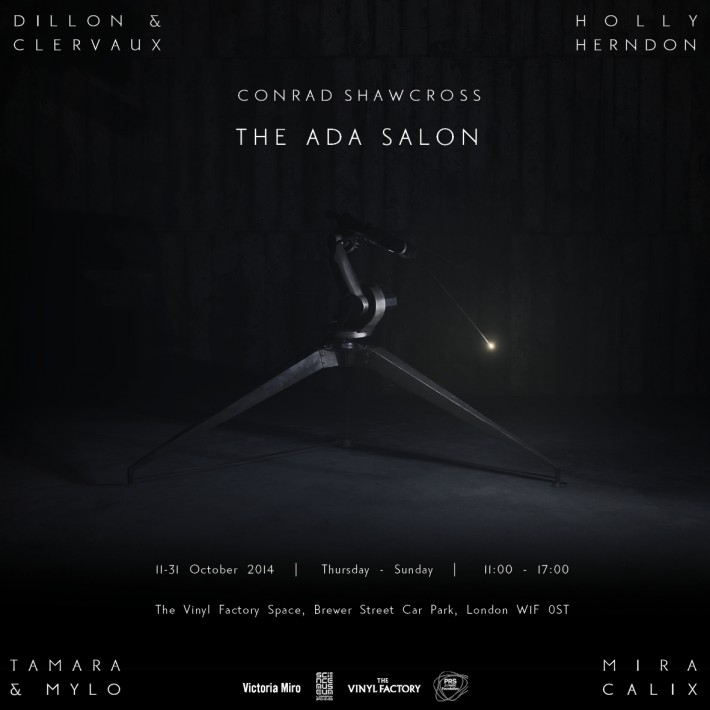 http://www.factmag.com/2014/09/22/holly-herndon-mira-calix-conrad-shawcross-ada-lovelace-robot-installation/