ada project – collaboration with Conrad Shawcross
Mira Calix is happy to announce a new collaboration with artist Conrad Shawcross on his Ada Project The work has been awarded a 'Women Make Music' grant from the PRS for Music Foundation, and will be presented at MoFo in Tasmania 15-19th January 2014  and in the United Kingdom the following spring.
This new piece for strings, electronics and voice, performed by Mira Calix, Oliver Coates, Teresa Duddy and Daniel Pioro,  is titled:
if
then
while
for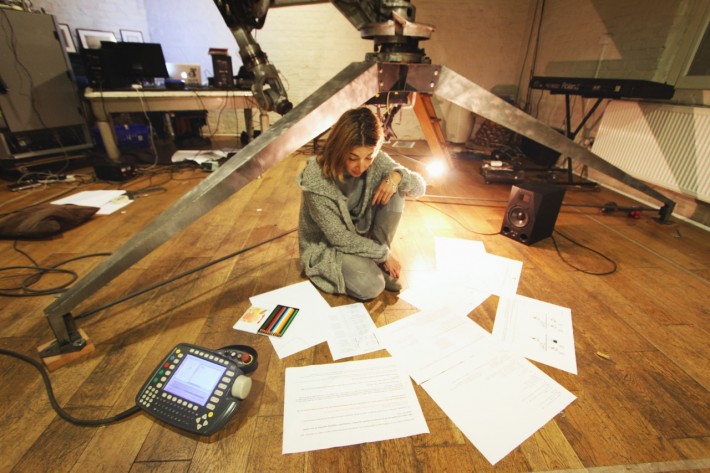 Inspired by Ada Lovelace's statement on the Analytical Engine and Alan Turing's riposte in his seminal paper on Computing Machinery and Intelligence:
"The Analytical Engine has no pretensions whatever to originate anything. 
It can do whatever we know how to order it to perform" 
Mira's piece draws on Alan Turing's riposte, his arguments from various disabilities:
"can a computer ever take us by surprise? "Be kind, resourceful, beautiful, have initiative, make mistakes,
fall in love, enjoy strawberries and cream, make someone fall in love with it."
Calix creates a narrative lament; a  girl in love with a machine asks to be adored. She seeks out the language of her paramour, desperate to be understood and to understand. Are it's gestures a sign of love and intention? Or will her passion be forever unrequited?The girl dares to hope, imploring for her ardour be reciprocated. Is she doomed to a desire of disappointment? To be left alone in the shadows.
photos courtesy of Conrad Shawcross
For Mira Calix's commission for The ADA Project we gratefully acknowledge financial support from PRS for Music Foundation.