The ADA Project – with Conrad Shawcross
Title:
if
then
while
for
Installation/Performance/Vinyl Release
Collaborators: Mira Calix and Conrad Shawcross
Presented by: The Ada Project is presented by Conrad Shawcross
Partners: Mona Foma  &  The Vinyl Factory
This commission was supported by The PRS Foundation  – Women Make Music Grant
Instrumentation:
Soprano – Theresa Duddy/Charmain Bedford
Violin – Daniel Pioro
Violoncello – Oliver Coates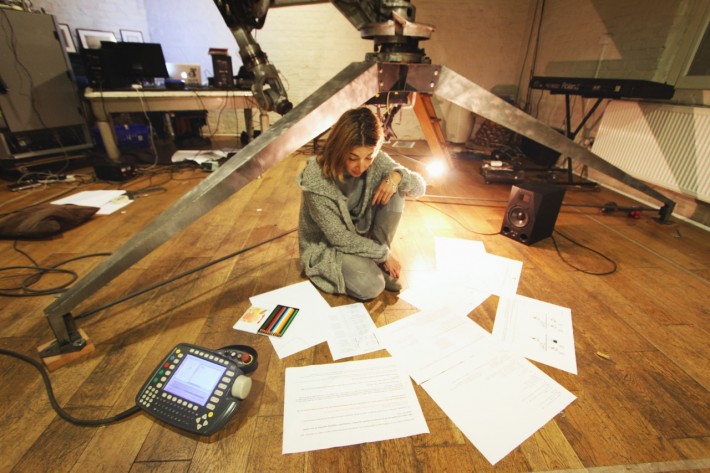 "A girl in love with a machine asks to be adored. She seeks out the language of her paramour, desperate to be understood and to understand. Are it's gestures a sign of love and intention? Or will her passion be forever unrequited? The girl dares to hope, imploring for her ardour be reciprocated. Is she doomed to be left alone in the shadows…"
Mira Calix, composer
On this collaborative project Calix mines the soul of the machine investigating Ada Lovelace's statement, "The Analytical Engine has no pretensions whatever to originate anything. It can do whatever we know how to order it to perform"  and references  Alan Turing's riposte, "Can a computer ever take us by surprise? Be kind, resourceful, beautiful, have initiative, make mistakes, fall in love, enjoy strawberries and cream, make someone fall in love with it."
In this first-of-its-kind collaborative artwork, Conrad Shawcross takes a new approach to commissioning music, reversing the traditional process, so that the robot's movement provides the inspiration and parameters for the music.
For this project  Shawcross found inspiration from Ada Lovelace (1815-1852) the mathematician (and daughter of Lord Byron). Working alongside Charles Babbage, inventor of the first proto-computer, Lovelace predicted that this complex counting machine "might compose elaborate and scientific pieces of music of any degree of complexity or extent", pre-empting the birth of programmed music by more than a century.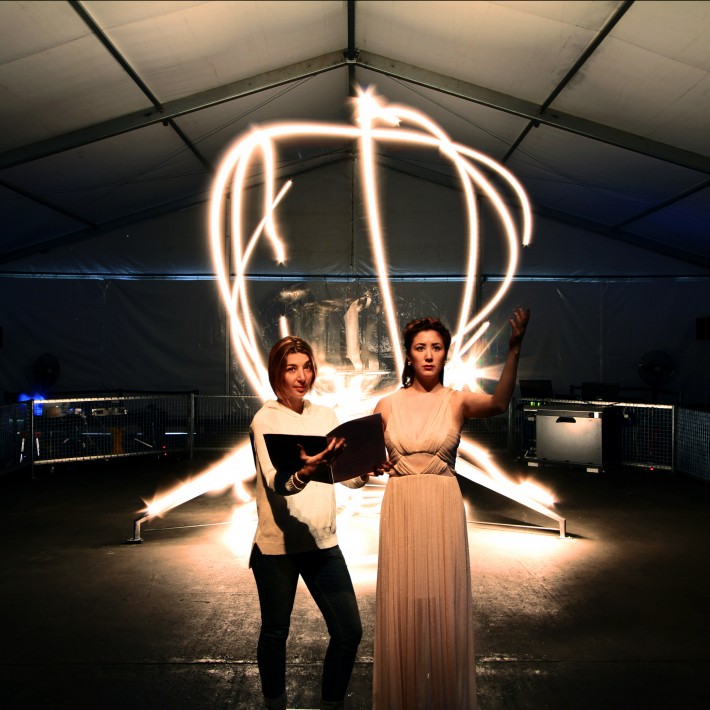 The composition is released by The Vinyl Factory as one of four limited edition laser etched 12" vinyl records, accompanied by an artist print, hand signed and numbered by Conrad Shawcross.
Published Mute Song 2014
http://www.thevinylfactory.com/
http://www.factmag.com/2014/09/22/holly-herndon-mira-calix-conrad-shawcross-ada-lovelace-robot-installation/