Nunu
commissioned by: Muséum d'Histoire Naturelle de la Ville de Genève and The Ether Festival

premiere: Ether Festival, Royal Festival Hall, London U.K.  – 2003

collaborators: visuals, Flat-e, music by mira calix, performed by the London Sinfonietta

instrumentation: string quartet, clarinet, bass clarinet, electronics, insects
format: performance

Nunu was originally commissioned by Muséum d'Histoire Naturelle de la Ville de Genève in 2002. Mira created an electronic version of the piece and premiered it there in 2002.
The orchestral version of Nunu was commissioned by the Ether Festival as part of the Warp Works and 20th Century Masters concert at The Royal Festival Hall. The orchestral version of the piece is performed by the London Sinfonietta,  a tank of amplified insects including cicada's, cockroaches, crickets and beetles and Mira Calix.  The piece is performed in surround sound, engineered by Sounditermedia.  Flat-e combine live feeds from miniature cameras situated in the insect tank, along with pre-recorded material.
The London Sinfonietta and Mira have  toured Nunu. extensively.  It has been  performed at an array of international concert halls, including Parca Della Musica in the Mariinsky Concert Hall in Moscow and the Esplanade Concert Hall in Singapore
The original electronic version of Nunu and  the orchestral version of Nunu (RFH mix) which was recorded live at the Royal Festival Hall premiere and broadcasted by the BBC, were released on the album 3 commissions,  by Warp Records in 2004.
A surround sound version of Nunu was commissioned by Lieven Bertels and remixed  by Mira Calixin in 2008. Nunu Wadudu appears on Recovery/Discovery: 40 Years of Electronic Music in The U.K., alongside the seminal works:  Mortus Plango by Jonathan Harvey, Chronometer by Sir Harrison Birtwistle and Temazcal by Javier Alvarez.
concert – Cita della Musica – Rome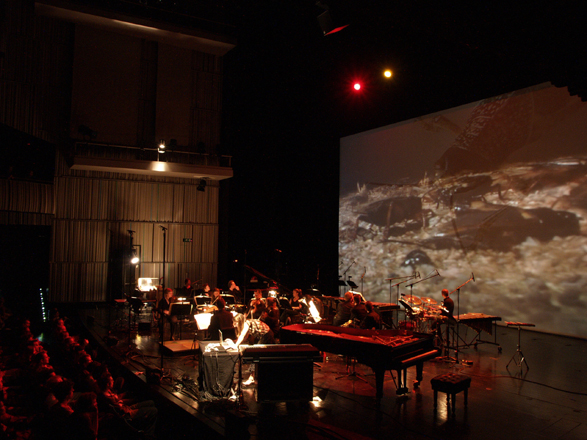 rehearsal – Concertgebouw – Brugge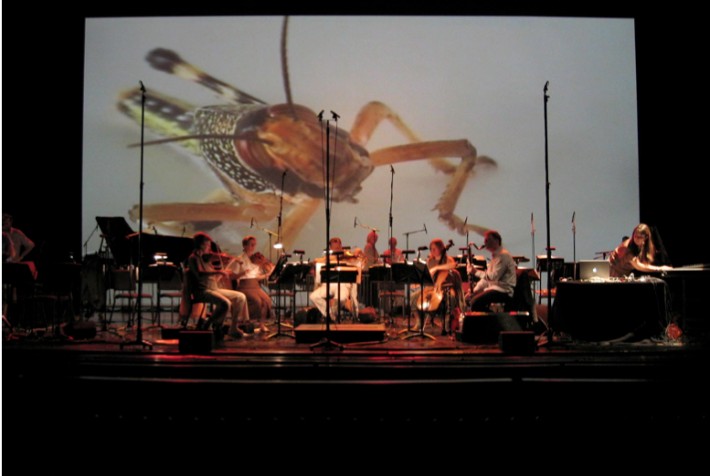 Muséum d'Histoire Naturelle de la Ville de Genève – Geneva