Inside There Falls
Mira Calix
Inside There Falls
installation presented by Sydney Festival and co-commissioned by Brett Clegg, Gretel Packer, Simon and Catriona Mordant AM & Sydney Festival Project Partner: Sydney Dance Company. Supported by: City of Sydney, Commonwealth Bank of Australia and Andrew Rothery & Julia Champtaloup.
Premiere: 08/01/2015 – Carriageworks, Sydney, Australia
#InsideThereFalls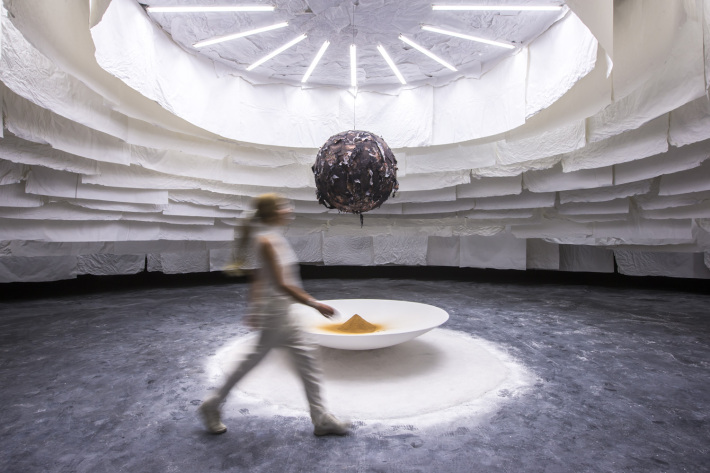 With Inside There Falls , Mira Calix has created a multi-sensory installation of paper, sound, music and movement. This blanched new landscape seamlessly blends technological innovation and organic materials. Mira views all these differing materials as equal elements and expressions united in the communication of an instinctive and ancient human desire to share stories. Music, the most abstract of artforms, is at the core of her practice, yet, she has always been preoccupied with narrative. In this new artwork, Calix has created an sculptural environment, both physical and sonic for visitors, who she views as participants in the work, to explore. The artwork contains a custom built 180 speaker diffusion system,  embedded within the sheaths of paper that cascade inside the 45 x 25 meter Carriageworks, gallery space.
Every sheet of paper in this installation is unique. The way it folds and shifts is transitory. The passages you follow, momentary.Dance, choreographed by Sydney Dance Company Artistic Director, Rafael Bonachela, is an intervention. Sound is an implication, light is instrumental, music is a metaphor, all multilingual gestures traversing the conventions of storytelling.
The original text, a meditation on myth and identity, was created by the Sydney-based writer Brett Clegg. The narrator is actress Hayley Atwell. Her voice audibly flows between materials reframing and recasting the narrative path for participants to follow, contemplate, explore and in so doing, create their own story.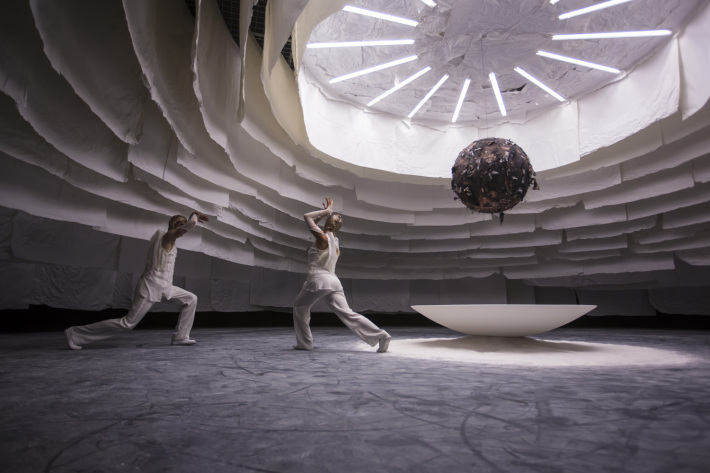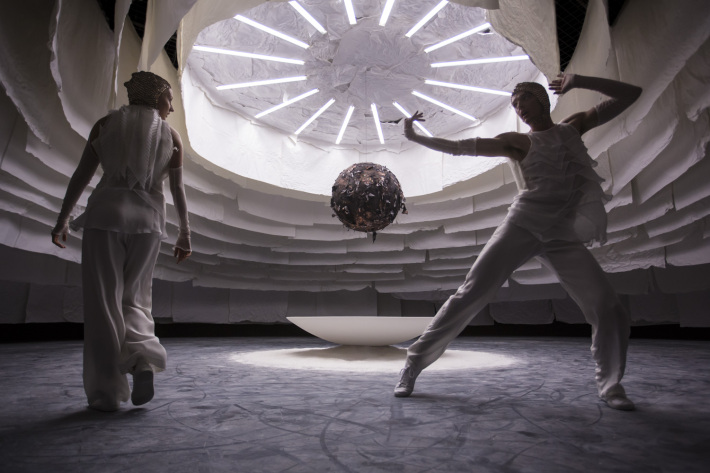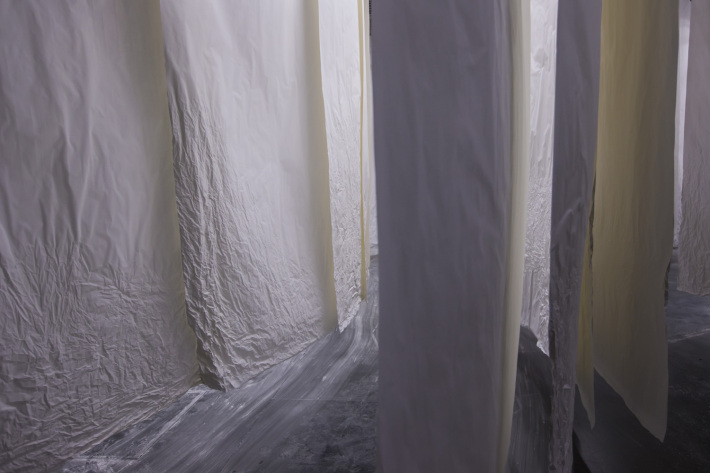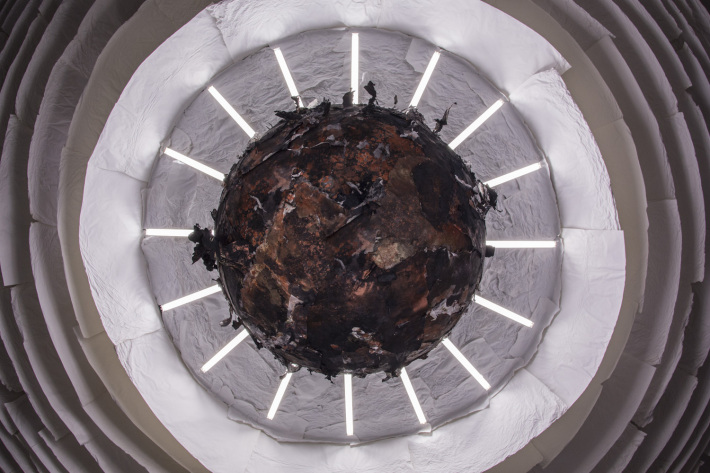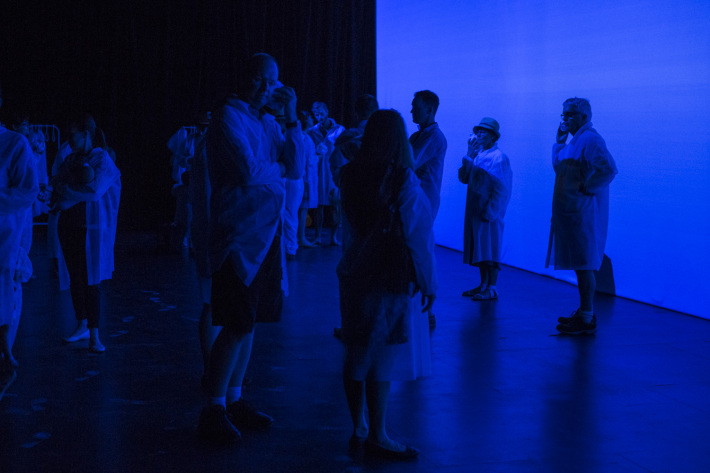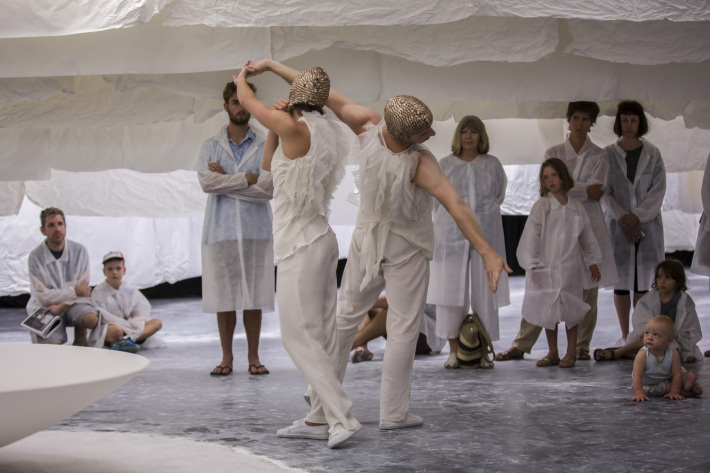 Selected Interviews & media:
Blouin ArtInfo
The Guardian
Interview Magazine
ABC – Arts
Art Asia Pacific
The Daily Telegraph
The Creators Project
Sydney Morning Herald
Time Out – Sydney
The Australian
Concrete Playground
Sydney Morning Herald – Festival Review
Installation Films : Inside There Falls – films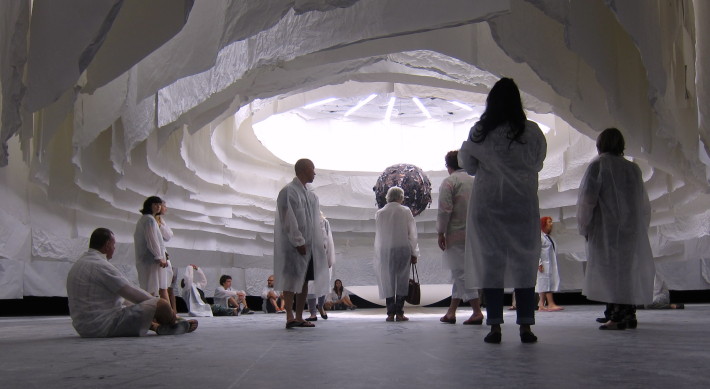 Credits:
Artist: Mira Calix
Choreographer: Rafael Bonachela
Narrator: Hayley Atwell
Original Text: Brett Clegg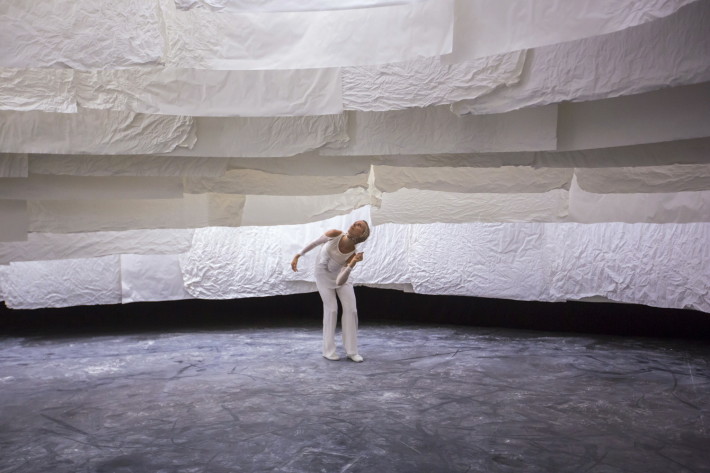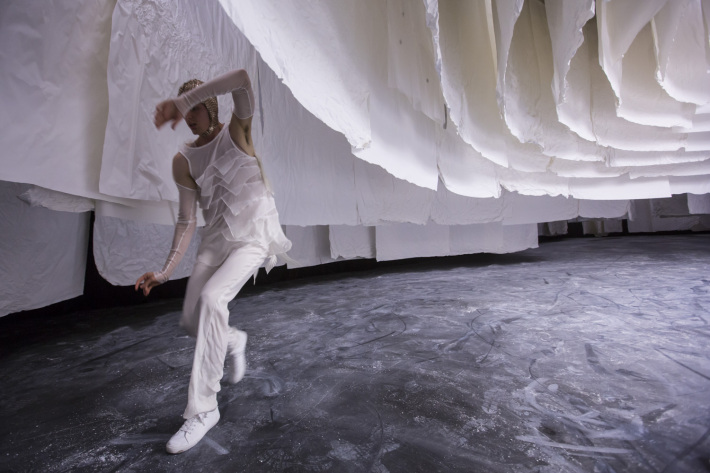 Dancers – Sydney Dance Company: Sam Young-Wright /Luke Mangraviti/David Mack/ Laura Wood/Juliette Barton/Josephine Weise
Musicians: Violin: Daniel Pioro & Charlotte Bonneton/Viola: Robert Ames/ Violoncello:Oliver Coates/Clarinet: Stuart King/Flute: Sarah O'Flynn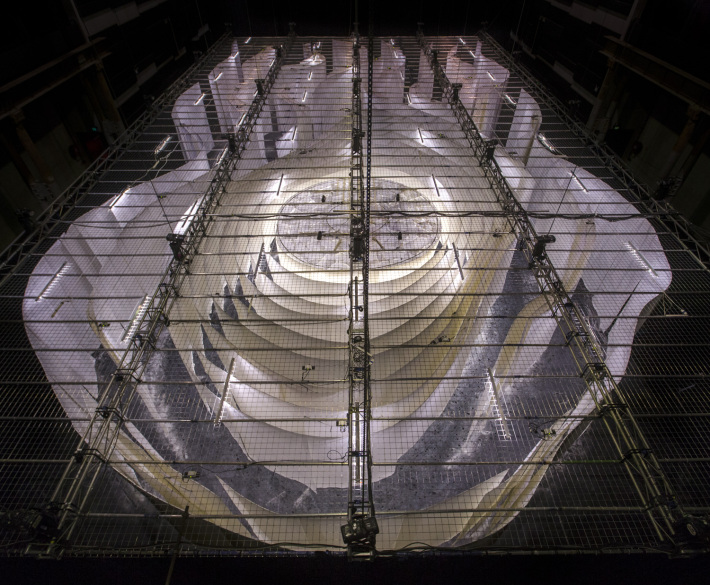 Executive Producer: Brett Clegg
Producer: Keri Elmsly
Project Managers:  Erin Milne Australia &: Aymie Backler United Kingdom
Fabrication: James Shearer (Other Fabrications)
Sound Design and Technical Consultancy: David Sheppard (Soundintermedia)
Architect: Irene Shamma
Lighting Design: Alexandros Tsolakis & George Konstantitou (Overcraft) Nick Raymont
Audio System Development: Dave Meckin
Creative Technologist: Jonathan Green
Fabrication Assistants: Lily Hunter Green, Bob Bicknell Knight, Ali Orr, Ruth Lea,
Isabelle Harte
Costume Design: Fiona Holley
Recording Engineers: Adrian Libeyre Ramirez, Neil Quinlan
Assistant to Mira Calix: Eleanor Beck
Stage Managers: Simon Turner & Olivia Benson
Catalogue Design: Fraser Muggeridge Studio
Documentation – Film & Photography: Peter Greig
Original score Silver Men Drown written and produced by Mira Calix published by Mute Song and recorded at Mute Studios, London.
Sydney Festival    Sydney Dance Company    Carrriageworks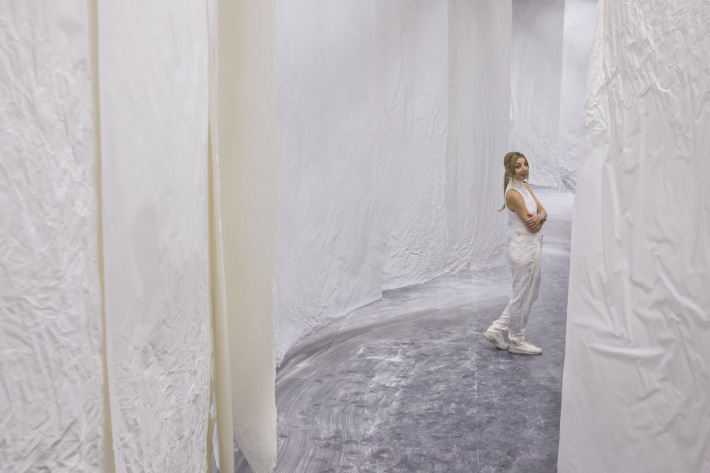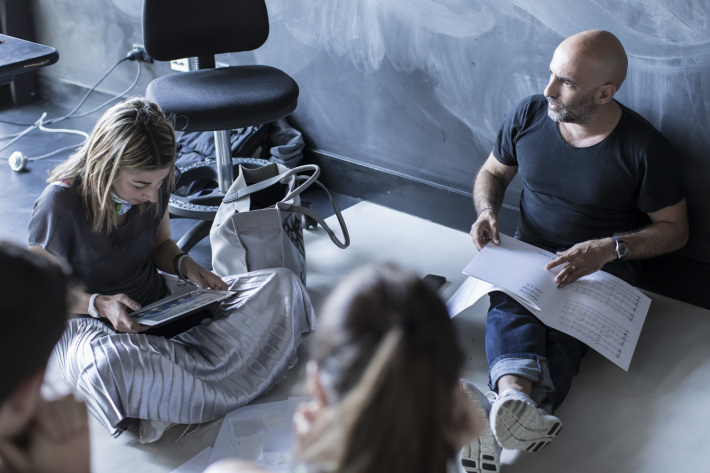 Materials: 1.5 Km hand folded paper, 168 Custom Speakers diffusion system, Cinnamon, Salt, Florescent Lights, Aluminium, Silk, Gall Ink, Copper, Talc, Chalk, Custom Software, Cyclorama, Projectors, Computers, 74 Custom mobile remote speaker system, 8.4 Meyer Surround Speaker System. 4 x Bowers and Wilkins M1, 6 x custom mobile speaker units
Instrumentation: Violin, Viola, Violincello, Clarinet, Flute, Voice, Electronics