Elephant and Castle – opera
commissioned by: Aldeburgh Music
premiere: Aldeburgh Festival, Suffolk, U.K. June –  2007
collaborators: director – Tim Hopkins, Libretto – Blake Morrison, Composers – Mira Calix &  Tansy Davies
instrumentation: Oliver Coates – violoncello, The Young Danish String Quartet, voice, electronics
format: opera/performance
Gretel: you never told me it would be scary. who's that staring us from the marsh?
Hansel: no one's staring. and it's not a marsh. we're in the city now. we're in reality, not a dream.
Inspired by the imminent demolition of the Elephant and Castle  shopping centre, and its echo in the  redevelopment the  Snape Concert Hall, the Opera is about architecture and aspiration, urban legends and primal myths, past and future, work and play, children and parent, Hansel and Gretel.
Devised and Directed by Tim Hopkins, Elephant and Castle is a promenade piece, using both the exterior surrounding landscape as well as the interior concert hall at Snape.   This duality is reflected in the use of both digital and analogue technologies. and unconventionally in commissioning two composers to write the Score.  Mira Calix and Tansy Davies worked separately on  some scenes for the Opera, as well as in collaboration on others.  Renowned  writer and novelist, Blake Morrison provided the Libretto.
Tom Service interviews Tansy Davies and Mira Calix for the Guardian
Performance of Elephant and Castle at the Snape Maltings Concert Hall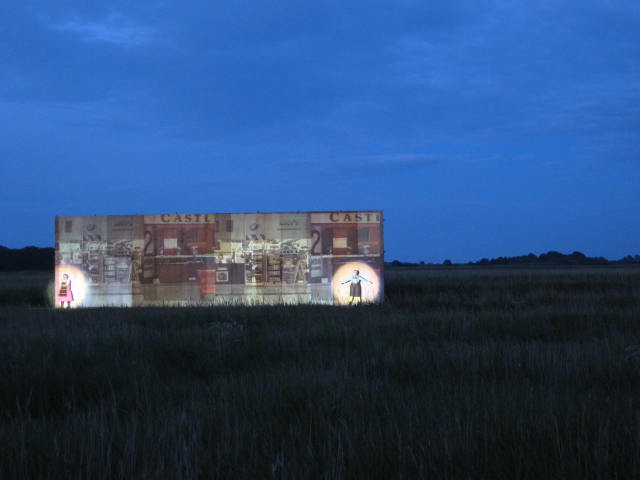 rehearsal for Elephant and Castle Opera
material from Elephant and Castle were released on 3 commissions: the elephant in the room